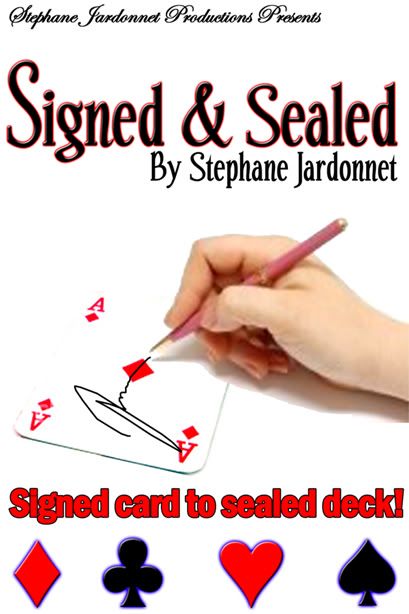 Signed and Sealed - By Stephane Jardonnet | Signed Card to Sealed Deck
Signed & Sealed by Stephane Jardonnet
.
Never open a brand new deck of cards by yourself. Have a spectator open it for you, and let them realize that any card can be selected, signed, and then found inside a brand new sealed deck. Which can then be opened by your spectator. The revelation is truly astonishing.
Effect
: A card is freely selected from the deck, and the spectator signs the card. A second spectator holds a brand new deck, still in its original shrink wrapped cellophane. The signed card vanishes from the deck, and appears Signed and sealed inside the deck, and can be opened by the spectator.
The method is brand new and has never been published anywhere before. The effect already exists, but none of them allow the spectator to hold, and inspect the deck at any given time.
You will need some basic card technique skills to perform this trick. It is not for extreme beginners, however, it is fairly easy to learn and perform.
- Comes complete with all the elements to perform the trick, except for the brand new cellophaned deck that you can find on this store.
- Work with any type of deck. The demo is made with a Bicycle 808, but any other type of new deck of cards will do.
- The card can be freely selected or forced, based on the type of effect you want to perform.
- The principle can be applied to many other objects, such as a pack of cigarettes, or anything that opens / closes that is sealed in cellophane wrap.